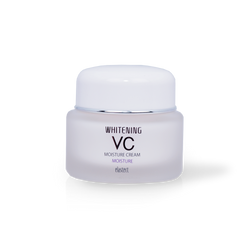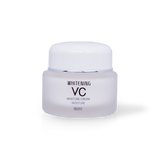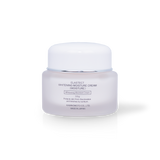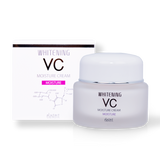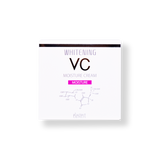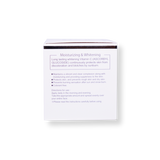 Moisture Cream (Moisture)
Long lasting whitening Vitamin C (ASCORBYL GLUCOSIDE) continuously protects skin from discoloration and blotches by sunburn.
Key Functions
Whitens and maintains a vibrant and clear complexion along with moisturizing and providing suppleness to the skin.
Protects skin, prevents rough skin and dryness, keeps the skin healthy.
Penetrates the skin quickly, moisturizes without stickiness.
Prevents burning sensation after sun and snow burn.
Colorant free.
Directions
Apply daily in the morning and evening.
Take the appropriate amount onto your palm or fingertip (pearl size) and spread it evenly over your entire face.
Also recommended to be used for the neck and upper chest areas.
Ingredients
Active Ingredients: L-Ascorbic Acid 2-Glucoside, DL-α-Tocopheryl Acetate, Stearyl Glycyrrhetinate
Moisturizing Ingredients: L-Arginine, L-Proline, Scutellaria Root Extract, Sodium Hyaluronate, Glycyrrhiza Flavonoid, Wild Rose Extract, Ginseng Extract, Vegetable Squalane, Jojoba Oil
Customer Reviews
03/21/2022
Hazel

United Arab Emirates
No more worries!
It really helped me with the pigmentation that I had around my mouth. Now, I will never have to worry about my skin again.
03/16/2022
Sheila

United Arab Emirates
Nice texture.
This cream's texture is perfect. It doesn't feel sticky or greasy on the skin. I love how my skin appears supple and fresh after applying this.
03/15/2022
Aisha

United Arab Emirates
Best moisturizer for my skin !
My search for the best moisturizer ended when my skin fell in love with this super moisturizing cream by Elastect.